Golden Labrador Chloe helps blind city resident Gabi Nicolescu move around the streets of Bucharest – but shops, hotels, taxis and buses ban them from going further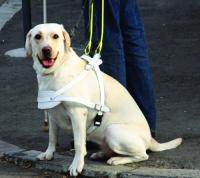 Around the blocks, streets and parks of Bucharest, 51 year-old Gabi Nicolescu is walking the first guide dog for the blind in Romania – but no shop, hotel, cafe, taxi or bus will allow access to his three-year old Golden Labrador Chloe.
"The guards say no entry with the dog," says Nicolescu.
His movement has became so restrictive that he collected signatures on a petition to present to the Government – outlining his plight and calling for a change in the law.
But when he tried to walk through the security gates of the seat of Romania's Government, Palatul Victoriei, the guards barred his passage - due to his canine assistant.
Read More